SNAKE TO THE FUTURE
Play a game of Snake!
However, all inputs are sent to the past.
The longer your snake gets the farther your inputs travel into the past.

Inputs:
Move Snake - Arrow Keys
Start/Restart - X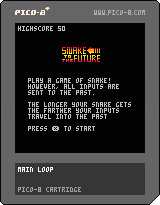 Install instructions
Play the game in your browser or download the binaries for your platform.
If you own PICO-8 or just want to look at the source code then you can also grab the PICO-8 cart.
The browser version also works pretty well on mobile devices.