DIGIDIG
Made for Ludum Dare 48 - Deeper and deeper
Nice weather for camping, but what's that? Treasure?
Time to start digging through the digits and get back before barbecue is ready.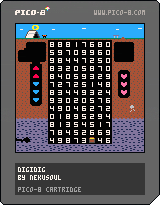 Install instructions
Play the game in your browser or download the binaries for your platform.
If you own PICO-8 or just want to look at the source code then you can also grab the PICO-8 cart.
The browser version also works pretty well on mobile devices.